The farm comprises 16000 ha (40 000 acres) and is the largest dedicated private hunting concern in the Western Cape. The undulating and varying nature of Karoo broken veld with 80 km of riverine bush makes it excellent hunting terrain for the hunter on foot while the extensive area allows management to offer rifle hunting and bow hunting without risk of interference of the different disciplines.
Game vehicles are all 4X4 and well equipped for the terrain.
There are 16 species available for hunting, including the plains game: Kudu, Gemsbok, Giraffe, Black Wildebeest, Eland, Red Hartebeest, Zebra, Impala, Springbok, Black Springbok, Blesbok, Mountain Reedbuck, Duiker, Klipspringer, Steenbok.
We employ full-time Professional Hunters and our hunting guides have been professionally trained by the Nature College, the top guide academy in South Africa.
Bow Hunting

Rifle Hunting

Foreign Clients
Bow Hunting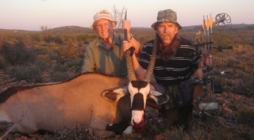 There are currently 3 hides in operation in various habitats, some equipped with automated self-feeders and game cameras allowing for specific targeted hunts. The newer hides have tinted Perspex windows, which give the hunter a wider field of sight. The riverine bush and many natural water courses make for excellent walk-and-stalk hunting.
Foreign Clients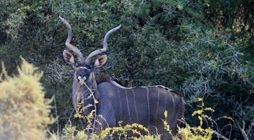 The laws of South Africa requires that foreign hunting clients be treated differently to local clients in order to guarantee service levels and safety to hunters unaccustomed to African conditions. Although we at Rietfontein do not agree with the principle since we deliver the same level of service to all our clients, the legislation forces us to charge different prices to local and non-South African clients. For rates please contact This email address is being protected from spambots. You need JavaScript enabled to view it. or send an enquiry e-mail from the contact us page.
American representative:
Alan Ferraris, Contact number: 5615104710, Email:
This email address is being protected from spambots. You need JavaScript enabled to view it.