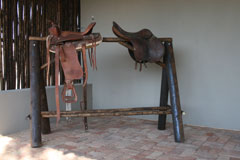 Old Horse Stables were converted into basic accommodation for hunters who want a level of comfort but with fewer frills. The Old Stables front onto a large river bed and is surrounded by overhanging Acacia trees which provide both welcome shade and a wind barrier. If you walk just a little beyond the enclosure, you will find a small orchard of fruit trees, mostly Mulberries. A natural stone wall encloses the Braai platform from the prevailing winds in the evenings, and creates a warm, sunny spot for coffee and rusks in the mornings.
The camp sleeps 4 but there are enough facilities so that up to 6 people could be accommodated. The Stables are fully electrified and have gas geysers in the bathrooms. The camp is serviced once a day and this is included in the rate.
Facilities:
2 en-suite bedrooms with twin beds, mosquito nets, bathrooms have full amenities
Large open-plan living area and kitchen (seating area, 10-seater dining table, kitchen area)
Open hearth large enough to Braai in
2-plate gas stove
Microwave and electric kettle, coffee plungers
Fridge/Freezer
All bedding (duvets, sheets, pillows, a blanket, towels)
Cutlery, Crockery, glasses, cooking utensils, pots, pans, tongs
Basic but comprehensive kitchen amenities e.g. dishwashing liquid and cloths, dishcloths
Covered stoep with 6 chairs
Stone-walled braai enclosure, braai platform and braai stands and grids
Firewood
Please bring:
Extra blankets in winter
Ice for drinks
Availability
Please contact us to make a booking.